About N3
N3
and its network.
An employer with drive and charisma: Our business is propulsion!

We are the European technology centre for maintenance and repair of Rolls-Royce engines used in Airbus aircraft. As a joint venture partner of Lufthansa Technik AG and Rolls-Royce plc, we have established our company as a market leader, serving airlines around the world. The most advanced procedures, a competent workforce, top qualifications and motivated staff guarantee reliable, efficient flight operations for our customers.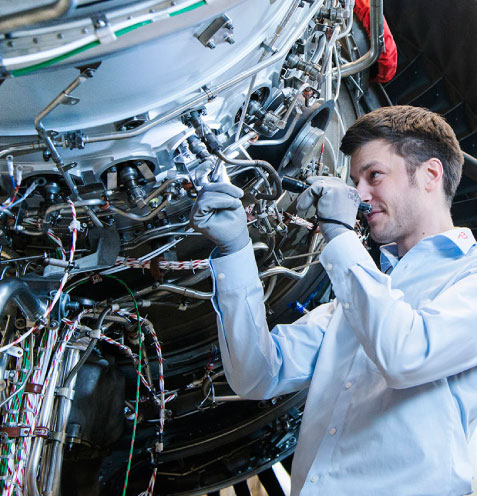 The "Trent" jet engine range from Rolls-Royce is at the centre of our activities. Its characteristic construction with three shafts rotating at different speeds inspired the engine's name: N3.

Maintaining, repairing and testing these engines is a complex, demanding task requiring exceptional levels of responsibility. We apply a highly efficient procedure that is unique worldwide for assembly and disassembly, operating one of the most modern engine testing rigs. This modern working environment offers a large number of diverse and attractive job opportunities.
unser-zahlen-anchor
N3
in figures, dates, facts.
An extraordinary working environment with impressive figures: an excellent employer N3 is out of the ordinary. Our company has established itself as a leading service provider in the aviation sector in a very short ime. Modern processes and our technically superior machinery provide impetus for us and safe flights for our customers.
The company
Plant commissioning: April 2007
Workplaces: 780 including 47 trainees
The facts
Customers: more than 40 international airlines
Portfolio: Rolls-Royce engines type Trent 500, Trent 700, Trent 900, Trent XWB
Capacity: 150 - 200 large engines each year
Building complex: 41,000 sqm total area, including 32,600 sqm factory work floor
Equipment: State of the art plant, fully automatic cleaning facility for engine parts
and one the world's biggest testing rigs for large commercial engines.
The testing rig
N3
on location.
A fascinating world of work, motivating people: in your location too!

N3 offers jobs and training for technically and commercially talented people, IT specialists and engineers with differing specialist fields. We offer career entrants and experienced professionals a great deal, except one thing: Boredom. Find information on interesting entrance and development opportunities below and on the following pages.

Would you like to meet us personally? You are welcome to come to one of the following events. If you can't make it to any of these, this page will provide regularly updated information on planned dates and events.
N3 dates and events
| Date | Event |
| --- | --- |
| 31.08.2019 | Berufsinformationsmesse, Congress Centrum Suhl, Suhl |
| 13./14.09.2019 | inKontakt, Stadthalle Bad Blankenburg, Bad Blankenburg |
| 14.09.2019 | Berufsinformationsmesse, Festhalle Ilmenau, Ilmenau |
| 22.10.2019 | inovailmenau, Campus-Sporthalle, Ilmenau |
| 13./14.11.2019 | Forum Berufsstart, Messe Erfurt, Messe |